Cargo Reverse Lipliner Review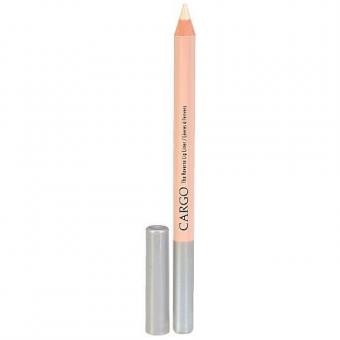 Lipgloss Love
I love lipgloss. So much in fact that I am loyal to the creation wholeheartedly, without the interference of lip liners or messy lipstick brushes. On occasion, I may venture into the realm of matte lipsticks, usually when I crave drama from a red lipstick, or perhaps the added punch of color created from a head turning pout. With those days aside, on a daily note, lipgloss keeps my life simple and my application woes under cover.
It wasn't until I made my first bold and dramatic lipstick splurge a few weeks back that I realized upon checkout, that I had no liner to compliment my gorgeous siren red shade of lipstick.
This may not happen often, but when it does, a gal has only two choices: bite the bullet and splurge on a matching liner that will inevitably get lost in the makeup bag, or go liner-less, risking unattractive feathering and bleeding edges. With hesitation, I grabbed my lipstick and went. Luckily, I found the Cargo Reverse Lipliner within days of my lipstick purchase, and I've been wearing my red lipstick to my heart's content.
Cargo Reverse Lipliner Review
The Cargo Reverse lip liner is available in two nude shades: light and dark. Promising to create a full pout while preventing lipstick or lipgloss feathering, the Reverse lip liner is soft and easy to apply.
The trick to using this liner is to apply it just as you would a normal lip liner, with the exception of extending the line a bit from your natural lip, which helps to create a fuller pout. Then, the instructions are simple. Blend, and apply the lip gloss or lipstick of your choice. It really is that simple.
Immediately after blending my Cargo liner, I applied my favorite shiny lipgloss. Instantly, my lipgloss had a bit of structure that I never knew it needed. The invisible, yet defined line of my lipgloss added fullness to my otherwise naked lips. By extending the line even further than I did, I imagine my lips would look plumped and enhanced without the need for costly (and painful) injections.
The real test? My new favorite red lipstick. I lined my lips with much anticipation, and was thrilled with the result. Without splurging on a colored lip liner that matches my lipstick, I can trust that I'll have defined edges without bleeding. How amazing is that?
Final Verdict
For a measly $14, Cargo Reverse lip liner is worth every penny. If you crave defined lips, full lips, and lipstick or lip gloss that stays put, this liner fits the bill.
It turns out, after test driving this amazing lip liner, I've discovered that Canadian born Cargo cosmetics is a beauty company loved and adored by celebrities and beauty editors worldwide. It is no wonder!
No matter if you are a lip gloss addict, or a lipstick queen, the Reverse lip liner is a universal must have makeup staple that will carry you through glossy days and matte nights. And that's a red carpet secret.