Being the subject of before and after makeup pics can be an encouraging experience for any woman who is desiring to improve her physical appearance. However, what's more fun is being the makeup artist responsible for the transformation that takes place. Just ask Alyson Howard-Hoag, founder of Authentic Beauty Image Studio. Alyson has been working in the makeup industry for years, focusing on bringing out the inner beauty of every woman who comes through her doors.
Fresh from her return of providing makeup for the Sundance Film Festival, Alyson recently, and graciously, answered some questions for us. Read on to enjoy her take on traditional makeup, and the importance of focusing on the "after" and forgetting the "before."
Tell us about yourself. Where are you from, where did you grow up, what is your education, what is your experience as a makeup artist?
Background
I grew up in Upstate NY. Pick any city in the tri city region and I have probably lived there. Specifically I went to High School in Schenectady, NY. I went to college when I was 16. To make a long story short I was combining two years into one during my junior year of high school. I really disliked high school. I was voted most unique!
College Years
I had my first apartment at 16 and went to the State University of New York at New Paltz at 17. I refused to have anyone tell me what I could take so my first semester I took A World of Music, Women Images and Reality, Indian Philosophy, English 101 and Human Nutrition! Believe it or not they all counted towards my degree. I was told early on to take an assortment of classes and whatever you gravitate towards that will be it.
My Love Affair with Makeup
I discovered makeup when I was 3. My mother taught elementary school and on one occasion she brought me to the high school. I remember looking at the girls…it was around 1971. The blue eye shadow! The pink lips! The glitter on the face! I asked my mother, "When do I get to do that?" She told me middle school. I kept a shoebox ever since and I collected makeup patiently waiting for the first day of 6th grade. In 3rd grade I actually brought it to school and made over the class! The teacher came in and sent me to the principal's office.
I was the girl who always did everyone's makeup. Even though I was the biggest tomboy I loved makeup! It never entered my mind as a career choice. I modeled in my first semester in college and learned how to apply makeup professionally. I hated modeling but I loved the whole makeover process.
Serendipity
In my junior year of college I worked at the local mall and would stop off at the Clinique counter at least once a week. It was my mission to own one of everything. The woman behind the counter just happened to mention I would be great working in cosmetics. I asked if you had to be trained already and she said they would train me. I applied and went to work for Lancôme for about a year. I was TERRIFIED the first time I had to put mascara on someone else. I ended up absolutely loving the whole process of makeup sales. I never looked at it as selling. That someone bought was a bonus because they loved how they looked.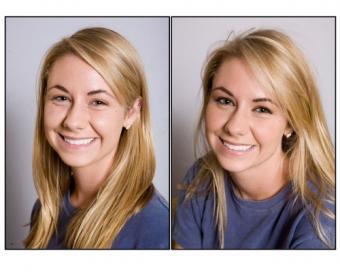 I had had a small stint as a makeup artist for Glamour Shots which I absolutely loved and a photography company was looking for artists to travel throughout the Southeast to set up a mobile glamour shots in small towns that didn't have access to a real store. It was a makeshift studio but I learned how to do makeup fast! And to work on women of all color. In South Georgia, I saw shades of black I didn't know existed. I was sometimes the only white woman and I had to prove my abilities time and time again. We had hundreds of women in a 3 day period and usually only 3 or 4 artists. It was awesome training!
I eventually had to get off the road if I wanted any personal life so I decided to go back to work in the salon environment. I saw that and still see that as the best opportunity for artists.
I went on to freelance in salons. I set up event days and worked out commission structures with them, I did commercial freelance jobs. I think I have had a job in every aspect of cosmetics.
What first inspired you to get into makeup? Any favorite jobs?
What truly inspired me to get into makeup is that it is fun! I loved it as a little girl and I still love that we get to apply makeup. I most love it when a woman has that "aha" moment. When she looks in the mirror and has the recognition that she is beautiful. I found I made more of a difference as a makeup artist affecting a woman's sense of self- esteem than I did when I was counseling her as a social worker [before my makeup artist career]. I was hooked. Favorite jobs….early days at Glamour Shots, being on stage in front of thousands of people for Aveda, and now a CEO, I love entrepreneurship.
What do you aim to improve in your "after" photos as opposed to the "befores"?
What I aim to improve in my after photos first and foremost is to make the skin even and smooth. Secondly, the eyes. The eyes must sparkle. I want a woman's eyes to stand out more than the makeup. If I am doing a makeup shoot that is one thing but if it is for a portrait it is never about my artwork. The woman I am working on is the art.
.
What do you find women most want to conceal/improve about their look in before and after makeover pics?
What most women want to improve is their skin. They want to even out the discolorations and sun damage and not look like they are wearing any makeup. Most women I work on truly don't want a lot of makeup. They want to look as natural as possible.
Any favorite products that you find work wonders?
I am all about the eyeliner sealer. I found this product about 12 years ago at a tradeshow. I sell it now. It turns any eyeshadow into liquid eyeliner. You use a small definer brush , add a little sealer and create a nice consistency. Because the brush is small it won't make a thick line unless you want it. Most women want a thin line but have a really hard time achieving it. With this product it will go on smooth. With water it dilutes the pigment and with this product it intensifies it and then seals it. It will soften up and you can blend the line so it creates the most perfect smooth soft line that will not smear or smudge.
What common mistakes do women make when they are trying to improve their look, only to ruin it instead?
Common mistakes include using the wrong foundation, not realizing that mineral makeup does not work for everyone, not having enough coverage, using the wrong texture for her specific skin type, or using the wrong colors.
Any advice for women wanting a perfect "after" look?
Blend more! I was trained by Sonia Kashuk and she would make us blend for 15 minutes after we thought we were done. When you think you are finished blend again! This goes for face as well as eyes. Buy a kabuki buff brush and buff your face after foundation. Use the right brushes. The size of the space you are working on should correspond with the size of the brush you choose.
Think painting a wall as an analogy. You must cover the surface over and over and you need a special size brush for smaller areas but if you use too small of a brush you will work too hard.
Smile when you are applying your makeup. If you are stone faced when you apply your makeup when you smile the makeup will look super imposed.
Skin care is also important. It does not matter how great your makeup application is if you have bad skin. Keep it exfoliated and hydrated. There are revolutionary products out there. Find the ones that work for you. Don't fake good skin. Don't use excessive shimmer. Pick one area of the eye. Either the lid or the highlight area - not both. Day makeup shouldn't be distracting. And night makeup shouldn't disappear.