Angelina Jolie's Beautiful Makeup Styles
Pictures of Angelina Jolie's makeup styles clearly show how the star's makeup preference has evolved over the years.
Taken in the fall of 2007, Angelina Jolie captivates in a minimalistic look.
Even so, her signature muted, rosy, coral lips, and well defined and perfectly arched brows have already become a part of her makeup repertoire.
All Smiles
Here, Angelina uses an apricot eye shadow to enhance the blue of her eyes, and goes even lighter with her lip color.
You can achieve a similar look by utilizing the same color palette, but don't forget that if you use a deeply colored eyeliner, to only apply it on your top eyelid.
Caramel Delight
With this look, Angelina Jolie changes things up a bit by using a rosier lip color and a shimmery eyeshadow.
If you love the lip color she is sporting here, use a nude lip liner to fill in the outline of your mouth. Take a Q-tip or a facial tissue, and soften any rough edges the lip liner may have made.
From there, apply a bright, red shade of lipstick. Blot repeatedly.
After that's done, top with a beige/nude lipstick and voila! You now have lips the same shade as Ms. Jolie.
My Fair Lady
Grey is a stunning color on Angelina, and when paired with a smokey eye, the actresses' gorgeous features seem to become even more, if it's possible, beautiful!
Take a cue from Jolie and create a smokey eye using a lighter toned color; not black.
Top the look off with a nude, pink lipstick.
Mama Mia!
At the 2008 Cannes Film Festival, Angelina was expecting, and this gorgeously soft color palette only enhanced her natural glow.
No matter you coloring, you can obtain a similar look by staying within the same color family.
Here, Angelina uses shades within the autumn color family, with gorgeous results!
Sexy Vamp Style
Just in case the world had forgotten her more sultry, Lara Croft side, Angelina shows up with slightly darker hair and glowing lips to help remind us of the more risk-taking side of her personality.
An Up-do That Outdoes the Rest
With this up-do, Angelina proves that you can't go wrong with mile long lashes and glossy, coral colored lips.
The pearl earrings perfectly completes this elegant look.
Simply Stunning!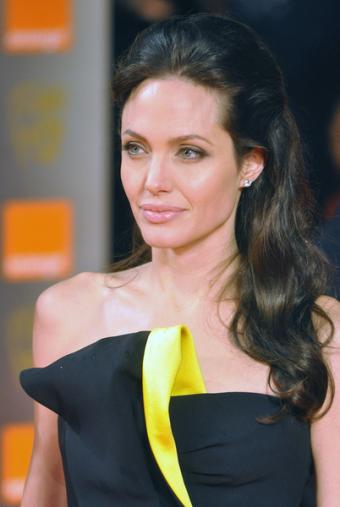 Everything about this make look is stunning! The brows are defined, but not harsh.
Eyes are smokey, but soft, and her lips are the palest shade of neutral pink.
This look proves that you don't need strong makeup colors to make a bold, and beautiful, statement!
Belle of the Ball
Can there be any doubt that Angelina is the belle of every ball?
This star has hit her makeup stride, and as of her husband's Inglourious Basterds movie premier, Angelina is still a vision, no matter the makeup colors she chooses!
However, a new starlet has hit the Hollywood scene, and has quickly embraced the vixen role Angelina is slowly leaving behind. Her name is Megan Fox and you can learn more about her in the Megan Fox makeup slideshow.