Makeup That Goes with a Yellow Dress
Knowing what eye makeup goes with a yellow dress can be frustrating. There are many color possibilities to choose from, so pick the one that goes best with your own coloring and style.
Eye Makeup for a Yellow Dress
Whether you are wearing a yellow dress to prom, a wedding or even a garden party, knowing what color eye makeup to wear is essential for completing your look. Wearing the right color with your attire can complement your appearance.
The general rule when it comes to choosing makeup colors is that all the colors you plan on wearing at once should harmonize with one another. This means that your eye shadow should complement your blush and lipstick. Another rule to follow is that the makeup should go with your specific skin tone and hair coloring.
Warm Color Family Options
Yellow does not work well for everyone. If you are one of the lucky women who can pull it off, the look can be fabulous. When wearing a yellow dress, choose makeup in the warm color family. Gold tones look great with yellow, and so do browns. Peaches also work well. If you have green or brown eyes, try a green shadow with a shimmer to it. For those with dark eyes, try a shade such as a shimmering gold or even lilac. Lilac is a contrast to yellow so will look great on any eye color.
Shades of Yellow
Another factor to consider is what shade of yellow you are wearing.
If your dress is a pastel yellow, choose brighter colors to make your eyes pop. Colors like coral or peach would work well.
If you are wearing a bolder yellow, try softer shades such as beige or a pale green.
A smoky eye would also compliment a yellow dress. Use smoky grays and black for a dramatic look or chocolate browns for a more subtle look.
Eye Color Choices
Some colors to try out:
If you are looking for a shimmery gold shadow to wear with your yellow dress, try a highly pigmented powder shadow from MAC such as Goldmine.
MAC Cosmetics makes Star Violet which is a light purple shade that will look great against a yellow dress.
Want a green shadow to make your eyes pop? Look no further than Ulta for your choice of green. Try Mint for a softer green or Shamrock for a bolder look.
Ulta also sells some great peachy shades such as Cashmere, Cognac, Star Dust and Knit.
Still can't make up your mind on what eye makeup goes with a yellow dress? Try a kit containing several shadows to experiment with. Check out a kit such as Sephora's Color Play Palette containing over 36 shadows that will surely have something to match your yellow dress.
Complete Your Eye Look
Once you settle on the perfect eye shadows, line your eyes with a great eyeliner such as Sephora's Contour Matte eyeliner in Espresso Your Love. It's the perfect shade of dramatic brown to compliment your look.
The final touch is a great mascara to really make your eyes stand out. Try one that will both lengthen and thicken your lashes for a dramatic look.
Face Makeup for Yellow Prom Dresses and More
Makeup that is fresh, light and breezy when wearing a yellow prom dress or summer dress. Think makeup you would want to wear on a bright, sunny, spring day. The makeup you choose should be fresh and natural looking…a style that truly allows your inner beauty to shine through. Since you'll be going for a flawless and natural look, you'll need some specific tools on hand to help you achieve it.
Concealer
Concealer can be your best friend when it comes to achieving a flawless face. No other product can help your eyes appear brighter or cover up any blemishes you may have faster than concealer can.
Choose a concealer that is one shade lighter than your natural skin tone.
Use the pad of your finger to tap the concealor unto the sensitive area under your eyes.
Use a concealer brush to apply the product in hard to reach areas, for example, the part of your eye that's closest to your nose.
If you will be using concealer to cover up blemishes, you may want to use a brush to do it as this will provide greater control than your finger.
Foundation
Foundation should exactly match your skin tone. You want to look as if you are not wearing any makeup at all, so having a foundation that blends flawlessly into your skin is a must. You can apply the foundation while utilizing any method you feel most comfortable with, including:
Your fingertips
A makeup sponge
A foundation brush
Blush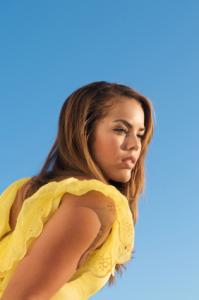 A natural looking blush will also look amazing and give that warm, youthful glow. Your best bet here is a sheer, cream blush like Bobbi Brown's Pot Rouge in a soft pink. Practice using and wearing this blush, and decide, ahead of time, where you are going to place it on your face. Some look best with blush on the apples of the cheeks that is then extended out towards, and up to, the temples. Others look best when the blush is applied just under the apples of their cheeks, in the concave of the cheekbone. The only way you'll know for sure is to experiment and see for yourself.
Final Thoughts
There are many options of eye makeup to complement your yellow dress. Have fun experimenting with a combination that will work best on you. You might also visit your local cosmetic counter for a mini-makeover and get some ideas from a pro. There are many makeup artists that will be willing to help you find a combination of colors that will not only work well for your specific coloring, but will look great with your yellow dress.