Cat eye makeup can morph your look from terrific to glamtastic with just one sweeping stroke. Whenever you need to take your makeup look up a notch, it's time to head to the makeup bag, pull out that pencil, and get purring.
Cat Eye Makeup Application
While applying cat eye liner makeup is certainly not the easiest of makeup tasks to conquer, it's a breeze once the simple application techniques are practiced and mastered with a steady hand. Cat eyes should be practiced as frequently as possible. Just like riding a bike, once you learn the tricks of this trade mark look, you'll never forget them!
Unlike heavy and bold smoky shadows, cat eye makeup is pretty simplistic and pure. The overall style can remain neutral and clean. If you're a minimalist or a vintage savvy thrifter, a cat eye can define your eyes while keeping your retro and clean look balanced.
Office gals can work their suits with this demure eye to add sex appeal that's not over the top or too risqué. Brides can wear a cat eye to define their lids without garish shadows. Whether you're walking the dog in the park or frothing cappuccinos, a cat eye is a mysterious way to show your feminine side while keeping the sex appeal going strong.
Once you know how to apply a perfect cat line, you'll find yourself applying this sexy technique whenever a flirtatious or mischievous mood strikes.
Getting it Purrfect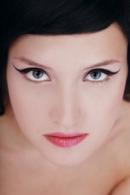 A bold, winged, cat.
Before you get started with your cat eye application, organize a few essentials. In order to complete a perfect cat eye, you'll need the following:
Makeup
Liquid, pencil or powder eyeliner in black or dark brown (liquid is recommended.)
Eyelash curler, try Shisedio's fabulous curler.
Black mascara
Concealer
Beige or taupe eye shadow
Q-tips saturated in eye makeup remover.
Tweezers
Step by Step Cat Eye
First, perfect your palette by removing any stray eyebrow hairs with tweezers.
Pat concealer in corners of eyes and lightly underneath to conceal dark circles.
Curl lashes with eyelash curler for added definition and lift.
Pull eyelid taut and lift at end of eye. With a steady hand, draw a line starting right above the iris, and extend, lifting and thickening the line to the outer eye. With a sweeping motion, flare line up; thickening the line and ending with a sharp point,
Brush a taupe or ivory shadow directly above the cat eye extending into the brow bone.
Apply 2-3 coats of black mascara.
Touch up any smudges with your Q-tips saturated in eye makeup remover.
When to Flaunt a Cat Eye
Be the cat's meow...
Surprisingly, cat eye makeup is very versatile. From dramatic eyes to subtle and refined, cat eyes can play up any outfit with class. With the right balance of eye color and complimentary makeup palette, you'll find a cat eye works almost every occasion. Use your best judgment when applying any type of extreme eye makeup application, but know that the cat eye is a generally safe way to go if you need a bit of oomph.
More Sexy Eye Secrets
If you're not ready to take the plunge into the feline kingdom of beauty, rest assured there's still some fabulous application techniques that will help you achieve the same va va voom results.These eye makeup tips are perfect alternatives to the cat eye:
The cat eye calls for drama.
White eyeliner - Not quite as catty, but equally flirtatious, a white eyeliner adds a touch of whimsy to your look without sacrificing wearability.
Pink eyeliner - Pink eyeliner like Benefit's Eye Bright never fails to wake up tired eyes while imparting a delicious glow on the lids. Line eyes with this chubby pencil and conquer your day!
False eyelashes - If you want drama without the lines, why not flaunt a pair of falsies? False eyelashes are a must try for everyone. Perhaps you'll be one of those gals we're all jealous of that can apply these things perfectly? Slap them on and bat 'em for extreme sex appeal!
.